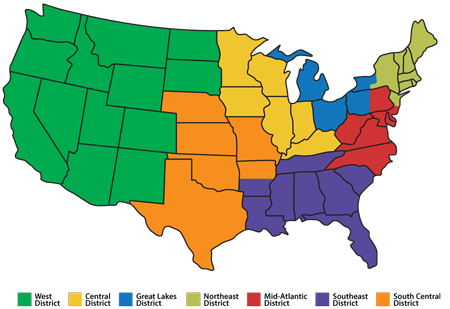 HSA currently has over 2,100 members
all around the country. You may join
The Society either as a member at large or
as a member of a unit. (Local units
are autonomous groups and may have
separate membership requirements.)
There are currently more than forty units of
The Herb Society of America, located in
seven membership districts. You receive the
same benefits either way! See the list of units below.
I'm interested in forming a new unit – where do I start?
Districts
Central District
Illinois, Indiana, Iowa, Kentucky, Minnesota, Wisconsin
UNITS BY STATE
Indiana: Central Indiana Unit
Indiana and Kentucky: Kentuckiana Unit
Wisconsin: Northeast Wisconsin Unit, Wisconsin Unit
Great Lakes District
Michigan, Ohio, Ontario, Western New York, Western Pennsylvania (Pittsburgh area)
UNITS BY STATE
Michigan: Frankenmuth Mid-Michigan Unit, Michiana Unit, Southern Michigan Unit
Michigan and Far-Western Ohio: Grosse Pointe Unit
Ohio: Central Ohio Unit, Delaware County Unit, Western Reserve Unit
Pennsylvania: Western Pennsylvania Unit
Mid Atlantic District
Delaware, District of Columbia, Eastern Pennsylvania, Maryland, North Carolina, Southern New Jersey, Virginia, West Virginia
UNITS BY STATE
North Carolina: North Carolina Unit
New Jersey: South Jersey Unit
Pennsylvania: Mason Dixon Unit, Pennsylvania Heartland Unit, Philadelphia Unit
Virginia:  Colonial Triangle of Virginia Unit, Virginia Commonwealth
District of Columbia:  Potomac Unit
Northeast District
Connecticut, Eastern Canada, Eastern New York, Maine, Massachusetts, New Hampshire, Northern New Jersey, Rhode Island, Vermont
UNITS BY STATE
Connecticut:  Connecticut Unit
Massachusetts:  New England Unit
New Jersey: Delaware Valley Unit, North New Jersey Unit
New York: Long Island Unit, New York Unit
South Central District
Central to Northern Arkansas, Kansas, Missouri, Nebraska, Oklahoma, Texas
UNITS BY STATE
Arkansas: Ozark Unit
Texas:  North Texas Unit, Pioneer Unit, Southeast Texas Unit, South Texas Unit, Texas Thyme Unit, The Hill Country Unit
Southeast District
Alabama, Central to South Arkansas, Florida, Georgia, Louisiana, Mississippi, South Carolina, Tennessee
UNITS BY STATE
Arkansas: Arkansas Unit
Georgia:  Chattahoochee Unit
Louisiana: Baton Rouge Unit, New Orleans Unit
Tennessee:  Nashville Unit
West District
Alaska, Arizona, California, Colorado, Hawaii, Idaho, Montana, Nevada, New Mexico, North Dakota, Oregon, South Dakota, Utah, Washington, Western Canada, Wyoming
UNITS BY STATE
California: Northern California Unit
Colorado:  Rocky Mountain Unit
HSA Unit Profiles
---
Arkansas
Arkansas Unit - Details   Facebook /A
Ozark Unit - Details   
California
Northern California Unit - Details   Website
Colorado
Rocky Mountain Unit - Details   Website  Facebook
Connecticut
Connecticut Unit - Details  

The District of Columbia Metropolitan Area
Potomac Unit  - Details   Website
Georgia
Chattahoochee Unit - Details   Website      
Indiana
Central Indiana Unit - Details   Website N/A
Kentucky
Kentuckiana Unit - Details   Website/A
Louisiana
Baton Rouge Unit - Details   Website N/A
New Orleans Unit - Details   Website
Maryland
Potomac Unit - Details   Website
Massachusetts
New England Unit - Details   Website   Facebook
Michigan
Frankenmuth Mid-Michigan Unit - Details   Website
Grosse Pointe Unit - Details   Website  Facebook
Michiana Unit - Details  
Southern Michigan Unit - Details  Website
New Jersey
Delaware Valley Unit - Details   Website
Northern New Jersey Unit - Details  
South Jersey Unit - Details   
New York
Long Island Unit - Details    
New York Unit - Details   
North Carolina
North Carolina Unit - Details   Website
Ohio
Central Ohio Unit - Details   Website
Delaware County Unit - Details   
Western Reserve Unit - Details   Website
Pennsylvania
Mason Dixon Unit - Details  Facebook
Pennsylvania Heartland Unit - Details  Website
Philadelphia Unit - Details   Website
Western Pennsylvania Unit - Details   Website
Tennessee                                                               
Nashville Unit - Details   Website  Facebook   
Texas
Hill Country Unit - Details   Website
North Texas Unit - Details   Website
Pioneer Unit - Details   Website
South Texas Unit - Details   Website
Southeast Texas - Details   
Texas Thyme Unit - Details   Website
Virginia 
Colonial Triangle of Virginia Unit - Details  
Virginia Commonwealth Unit - Details 
Potomac Unit - Details    Website  
Wisconsin
Northeast Wisconsin Unit - Details   Website  (also view www.thewisconsinherbalist.com)
Wisconsin Unit - Details   Website