Webinars
Webinars
August Webinar
Members, sign in to register for this upcoming webinar!
Not a member? Register below or join for free access to this webinar and more than 40 others in the HSA on-demand webinar library!
Coming Together in the Indigenous Garden
at Olbrich Botanical Gardens
with Rita Peters and Erin Presley,
Olbrich Botanical Gardens staff

August 30, 2022 1PM Eastern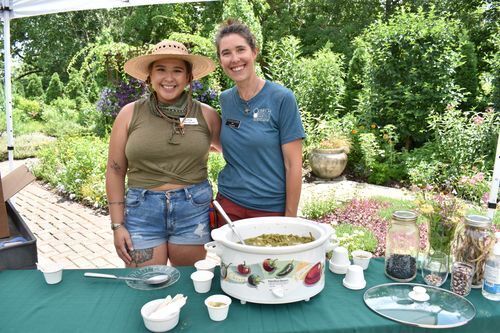 Milkweed soup tasting and sweetgrass braiding were just two experiences that brought together local Ho-Chunk tribal members and garden visitors in the Indigenous Garden at Olbrich Botanical Gardens in Madison, Wisconsin, in 2021. The Indigenous Garden created opportunities to connect, converse, and appreciate the history and majesty of food plants significant in Midwestern First Nations cultures.
The "Three Sisters Living Tunnel" offered a warm invitation to wander through the garden, with towering 15 foot corn and sunflowers to delight young and old. Free, drop-in community activities attracted a lively and diverse crowd. Visitors were even able to hear plant names in the nearly extinct Hoocąk language with garden signage linked to audio recordings. Heartfelt community support, a spirit of true collaboration, and jars of seeds lovingly stored will be lifting this garden to new heights with new potential in 2022.
Join Olbrich staff members Rita Peters (Ho-Chunk) and Erin Presley as they share the story of the Indigenous Garden and even the famous milkweed soup recipe!
---