Support
Our organization, at its heart, is all about sharing our passion for herbs. We have worked tirelessly for eighty-five years to promote and inspire the use of herbs in our gardens and our lives. Your support is vital in continuing this important mission. Your gifts support education through public gardens, online programs, and grants for school gardens and scientific research. Last year we awarded more than $8,000 to help create learning gardens in schools and support scientific research. Through your donations, The Herb Society of America is preserving our legacy of expanding and sharing knowledge of these wonderful plants and their impact on our lives, our culture, and our environment.
Your donation to HSA helps our programs thrive!
✓ Support public and private gardens across the country
✓ Cultivate a deeper understanding of herbs, and nurture a love of nature through public presentations and the support of school gardens
✓ Support the healthy migration of pollinators and our ecosystem – inspire others to get involved
✓ Support our ongoing collection, research, and exploration of new herbal discoveries, as we preserve the past for all to learn from and appreciate
---
TABLE OF CONTENTS – CLICK ON A TITLE TO LEARN MORE
Donate  Tax-deductible donations may be made securely online, mailed, or faxed
Grants and Scholarships  Donate to our grants and scholarship programs
Ways to give  Annual Fund Gifts, Tribute Gifts, Founders' Circle, In-Kind Gifts, Planned Giving and Endowment, Herbal Pathways, President's Fund, Friends of the Library
Earn cash for HSA while browsing online  Simple online searches or purchases can earn cashback for HSA!
---
Ways to give
There are a number of ways for individuals to support The Herb Society of America
Annual Fund Gifts provide support to The Society's annual programs and operation costs.   Learn more about Annual Fund Gifts
Many employers offer matching donations to non-profit organizations, check with your human resources department to see if your employer offers matching donations.
Tribute Gifts are made to The Society in honor of family and/or friends, to celebrate a special occasion, or to express sympathy or honor in memory of a loved one.   Learn more about Tribute Gifts
Founders' Circle members have made plans for HSA to receive their financial support during their life and after their deaths. By joining Founders' Circle, you can leave a legacy by making a "planned gift" (arranging now for a financial gift to HSA following your death) in addition to your current contributions.   Learn more about Founders' Circle
In-Kind Gifts include donations of products such as computers, seeds, garden tools, books — or services such as landscaping, maintenance or graphic design work.
Planned Giving & Endowment provides a variety of opportunities to include The Society in your long-term financial plans.  Learn more about Planned Giving & Endowments
President's Fund provides support for the gardens at HSA Headquarters in Kirtland, Ohio Learn more about the President's Fund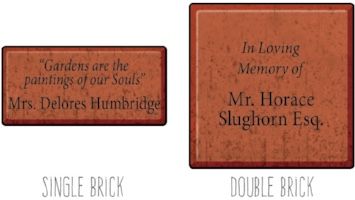 Herbal Pathways can honor a special person or celebrate a special event with a personalized brick. The brick will be added to the HSA Headquarters herb garden pathway and become a lasting tribute.  SHOW ME THE PATHWAY PLAN
Friends of the Library Friends raise awareness of the library and its services among HSA members and in the community by advocating the mission of the library. Friends advance the library and its services through fundraising, promotions, use of the library, networking, and programs. Learn how to become a Friend of the Library
---
Easily donate while simply searching the web or shopping online!
Online shopping
www.goodshop.com provides the latest coupons and offers at thousands of top retailers like Amazon, Macy's, Target, and, Best Buy (for example). When you shop with Goodshop, a percentage of your purchases are donated to your chosen cause.

​www.igive.com generates donations by individuals shopping online at any of 1,700+ stores. There are no added costs, obligations, or hidden fees. Register on the igive.com site and designate "The Herb Society of America" as your charity. Shop online and earn cashback for HSA. (amount donated from each retail site varies, but every little bit counts)
Smile.Amazon.com is a simple and automatic way for you to support your favorite charitable organization every time you shop, at no cost to you. When you shop at smile.amazon.com, you'll find the exact same low prices, vast selection and convenient shopping experience as Amazon.com, with the added bonus that Amazon will donate a portion of the purchase price to your favorite charitable organization. You can choose from nearly one million organizations to support. On your first visit to AmazonSmile smile.amazon.com, you need to select a charitable organization to receive donations from eligible purchases before you begin shopping. We will remember your selection, and then every eligible purchase you make at smile.amazon.com will result in a donation.
Support
Our organization, at it's heart, is all about support. We've worked tirelessly for eighty-three years to promote, educate and investigate herb use throughout history, and on the support of our members and donors we depend. But did you know that every year, HSA in turn supports education directly with school grants and student scholarships awarded for furthering education in herbs? Last year we awarded more than $xx,xxx to support learning gardens in schools, college students specializing in herb studies, and herb research. Through these means we endeavor to promote the longevity and impact of herbs on our culture.