Join us for our upcoming webinars!
Members, sign in to register for upcoming webinars or to view past webinars
Not a member? Join now to register for this webinar and to view our library of past webinars along with many other HSA Member-only benefits and discounts. Or see below to register and pay to attend this webinar.
---
July Webinar 
Philadelphia Flower Show 2021 – "Habitat: Nature's Masterpiece" with Janice Cox
July 20th, 1 pm Eastern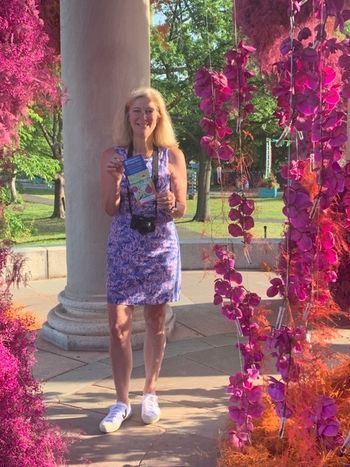 The 2021 Philadelphia Flower Show bloomed outdoors this year for the first time in the show's history. This show is the nation's largest and world's longest running horticultural event.   HSA member, Janice Cox is excited to share with you her experiences from this year's show.  Janice, with an eye for herbal trends, will also present some of the award winning ideas and how you can use them in your own garden and community.  This year featured the most designers, gardens, and floral displays in the show's history!
Janice Cox is an expert on the topic of Natural Beauty and Making your own cosmetic products with simple kitchen and garden ingredients. She is the author of three best selling books on the topic: Natural Beauty at Home, Natural Beauty for All Seasons, and Natural Beauty from the Garden. She is currently the beauty editor for Herb Quarterly Magazine and a member of the editorial advisory board for Mother Earth Living Magazine She lives in Medford, Oregon with her husband. She is a member of The Herb Society of America, International Herb Association, United States Lavender Growers Association, Oregon Lavender Association, and Garden Communicators International.
 
---