Join us for our upcoming webinars!
Members, sign in to register for upcoming webinars or to view past webinars
Not a member? Join now to register for this webinar and to view our library of past webinars along with many other HSA Member-only benefits and discounts. Or see below to register and pay to attend this webinar.
---
September
The Chakra System Displayed in a Garden  with Jane Hawley Stevens, Four Elements Organic Herbals
Thursday, September 24th, 2020 1pm EDT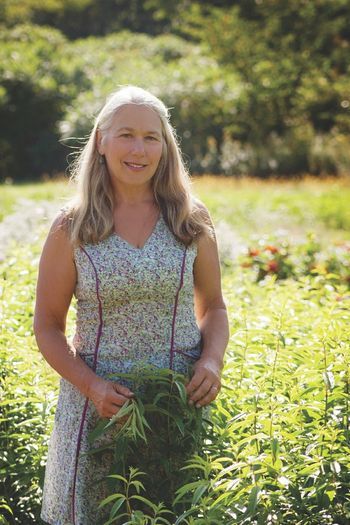 The presence of plants offers a world of stimuli for all the senses. A garden has been created that organizes plants according to the body systems. Jane Hawley Stevens planted a living classroom that teaches guests at her annual Open House about how herbs heal. Her Chakra Garden has seven distinct areas with plants specific for each body system that help heal and rejuvenate. Learn about this eastern system of healing, the herbs, and the garden design that explains it.
About Jane Hawley Stevens
Jane Hawley Stevens has been working with herbs from starting seeds to creating herbal wellness since 1981. Jane and her husband, David, own and operate a 130 acre certified organic farm in Baraboo Bluffs, Wisconsin. Just this year Jane and David were named the Midwest Organic & Sustainable Education Service (MOSES) 2020 Organic Farmers of the Year! 
Their farm is also home to Four Elements Organic Herbals. Their property is composed of cultivated fields, prairie, and woodland. Jane believes that healing comes from nature, so dedicates her power to nurturing healing herbs, both cultivated and wild. These are hand harvested at peak potency to create her unique line of remedies. In this rural setting, Jane has contributed her message of honoring nature to schools, civic groups, and through Four Elements' Annual Open House over the past 30 plus years.


Non-member class fee is only $5.00! Register below.