The Herbarist
The Herbarist Archives
The Herbarist 2018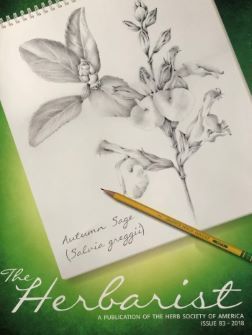 The Herbarist 2018 (Issue 83)
Medicinal Comments on Bay and Old Bay
By James A. "Jim" Duke, Ph. D.
Designing Garden Rooms with Fun and Focus in Mind
By P. Allen Smith
Herbs in the Extreme
By Lois Sutton, Ph.D.
Chocolate: Improving Upon "Perfection"
By Christine Moore
Herbs in British Folk Songs
By Mary Bellis Williams, Ph.D.
Herbs Play Historic and Modern Role in Beer
By Paris Wolfe
Fruit of the Bine
By Jacqui Highton
Annual Research Grant Report (2015/2016)
By Delini K. Samarasinghe