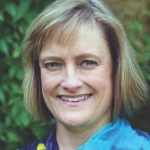 Karen Kennedy, Education Coordinator
Karen Kennedy has interesting, and enviable, college degrees. She studied Agriculture at Kansas State University, with a major in Horticultural Therapy. For the past 30 years she has been a registered Horticultural Therapist. 
The Herb Society of America tapped her talents as Education Coordinator just three years ago. In that role she puts together educational webinars, gives presentations on herb topics and produces informational materials. 
"My goals are to use educational materials and programs to increase awareness of The Herb Society of America and learning opportunities for our members and the public," says Karen. For example, she contributes to The Herbarist magazine and develops factsheets about various herbs.
Before joining HSA, Karen shared her talents, for many years, with the neighboring Holden Arboretum. She continues to be active in professional organizations including the HT and Cancer Network Group, and the National Wellness Initiative.
Karen grows herbs in raised beds and containers at her home. Her favorites tend to be seasonal, with basil topping the list. "I love the versatility and flavor of this herb," she says. "It pairs well with savory dishes, desserts and beverages."
"Lemon verbena is a close second since it holds its fragrance and flavor with drying and is lovely in a cup of tea," she continues. "And, I can't get through the holidays or grilling season without rosemary."
Karen lives in Concord, Ohio, with her husband, daughter and a schnoodle. In her free time she gardens and knits.
Holly Gielink, Administrative Support and Membership
Holly comes to The Herb Society of America with fourteen years of experience as a secretary. She started in July 2016 as a temporary employee assisting with unit membership renewals. Holly is currently the membership coordinator and administrative assistant.
Holly is married to her husband John, she has two children and two grand dogs.
In her spare time Holly enjoys crafting, boating, and traveling the world.
Paris Wolfe, MA  Blogmaster
Paris Wolfe has been a journalist since the mid-1980s and an herb gardener since 1990. Writing about food, and herbs has been a passion throughout her career. She's written for The (Lake County, Ohio) News-Herald, The (Cleveland) Plain Dealer, Cleveland Magazine, The WineBuzz and so many more publications. Her credentials include a Master of Arts degree in public relations. Working on a blog with The Herb Society of America is a natural progression of her writing talents.
"I'm excited to be working with The Society. There is so much potential to extend its reach into untapped communities," she says. "Gardening is on the upswing with more than 14 million households engaging in herb gardening."
Paris believes in research-based communication and that includes talking to experts about their experiences and knowledge. She hopes to incorporate those talents in the blog and other activities of the Society.
Her favorite herbs are cilantro and lavender. She can't grow catnip because it attracts strays.
Paris lives in Concord Township, Ohio, where she is the neighborhood cat lady. She lives with her two sons Dante and Dominick and four cats. In her spare time she's busy gardening, cooking, crocheting, motorcycling and skiing.