If you are passionate about herbs like we are, you're in the right place!
Our Mission Statement
The Herb Society of America is dedicated to promoting the knowledge, use and delight of herbs through educational programs, research, and sharing the experience of its members with the community.
The Herb Society of America promotes herbs as  valuable, useful, and essential parts of our lives. Throughout history people have valued herbs' aesthetic, fragrant, medicinal, and culinary properties. HSA provides educational resources that allow you to explore topics including herbal history and lore, growing tips and techniques, and details on how to use herbs for flavoring, fragrance, and crafts.
We've worked tirelessly since 1933 to promote, educate, and investigate herb use throughout history to the present. Through our members, we support public and private gardens across the country, inspire others to get involved with horticultural and herbal interests, and serve as a comprehensive resource on herbal topics. HSA members receive additional benefits including national and local newsletters, special discounts on products and magazines, access to exclusive member resources, monthly webinars, and more! Sound like a good fit for you?   JOIN NOW
---
Our History
In 1933, seven women (six from Boston and one who resided in Washington, D.C. in the winter months ) sought for in-depth tutelage about herb botany and horticulture. Their studies with Dr. Edgar Anderson of the Arnold Arboretum at Harvard University inspired them to form a group dedicated to studying and sharing the knowledge and uses of herbs, The Herb Society of America. READ MORE.
---
Membership in HSA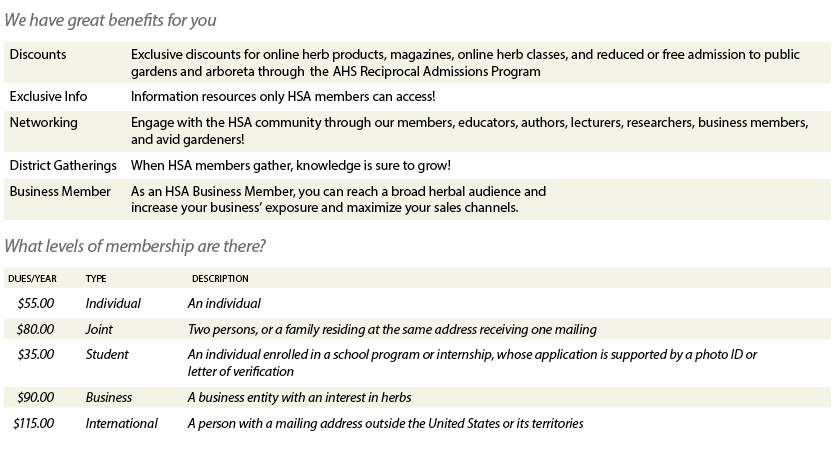 ---