If you are passionate about herbs like we are, you're in the right place!
The Herb Society of America promotes herbs as  valuable, useful, and essential parts of our lives. Throughout history we have valued their aesthetic, fragrant, medicinal, and culinary properties. Our print and digital resources, provide windows into herbal history and lore, growing tips, and techniques as well as details on many herbal uses.
We've worked tirelessly since 1933 to promote, educate, and investigate herb use throughout history to the present.  OUR MISSION IN DETAIL  Through our members, we support public and private gardens across the country, inspire others to get involved with horticultural and herbal interests, and serve as a comprehensive resource on herbal topics. HSA members receive additional benefits including national and local newsletters, special discounts on products and magazines, access to exclusive member resources, monthly webinars, and more! Sound like a good fit for you?   JOIN NOW
---
TABLE OF CONTENTS – CLICK ON A TITLE TO LEARN MORE
---
Become a memberSPACESPACESPACESPACESPACESPACESPACESPACEJOIN NOW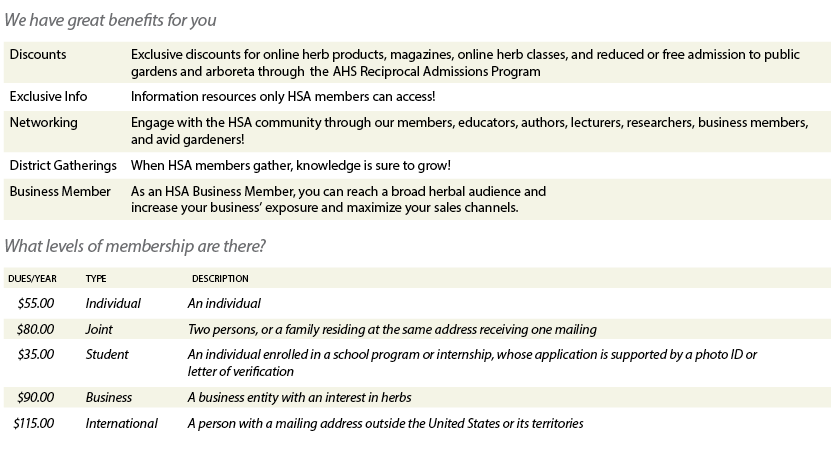 ---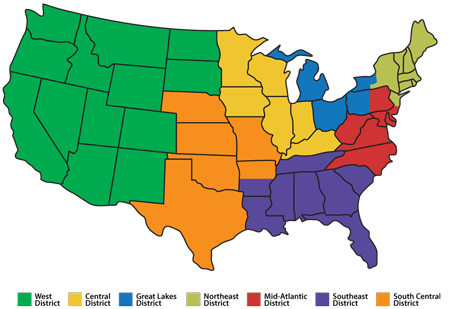 Where we are
There are currently over forty units of The Herb Society of America, located in seven regional membership districts. Local units are autonomous groups and may have unique membership requirements.
Whether you are looking for a local unit to join or if you are simply looking for a trusted resource for information on herbs, The Herb Society of America community is your connection the world over to help you learn and to share your ideas, knowledge, and observations with other herb enthusiasts.
I'd like to find out more about Units
Note: A state may be listed under district coverage even if there are currently no HSA units in that state. If you are interested in forming a unit in your state, contact HSA Headquarters at herbs@herbsociety.org or call 440-256-0514
---
Who we are
The Herb Society of America is a membership based nonprofit 501(c)(3) organization with headquarters located in Northeast Ohio. The Society's national headquarters are located in Kirtland, Ohio (approximately forty-five minutes east of Cleveland, Ohio) adjacent to Holden Arboretum. The offices renovated in 2010, occupy what is considered the oldest stone house in the area, a structure built in 1841 by Henry Early using local sandstone.
The HSA staff consists of:
Interim Director of Operations - Gretchen Faro     director@herbsociety.org
Administrative Assistant -  Holly Gielink support@herbsociety.org
Education Coordinator -  Karen Kennedy educator@herbsociety.org
Library library@herbsociety.org
Membership membership@herbsociety.org
Finance accountant@herbsociety.org
Want to find out more about our staff?   STAFF DETAILS
The HSA Board Officers:
President  - Rie Sluder
Vice-President  - Amy Schiavone
Secretary & Communications  - Maryann Readal
Treasurer & Finance  - Linda Lange
Learn more about serving on the HSA Board
---
Our history
In 1933, seven women (six from Boston and one who resided in Washington, D.C. in the winter months ) sought for in-depth tutelage about herb botany and horticulture. Their studies with Dr. Edgar Anderson of the Arnold Arboretum at Harvard University inspired them to form a group dedicated to studying and sharing the knowledge and uses of herbs, The Herb Society of America.   READ MORE