Join us for our upcoming webinars!
Members, sign in to register for upcoming webinars or to view past webinars
Not a member? join now to register for this webinar and to view all archived webinars along with many other HSA Member only benefits and discounts.
---
April 
Kids Become Foodies in the Garden with Linda Franzo
Thursday April 26, 2018 - 2pm EST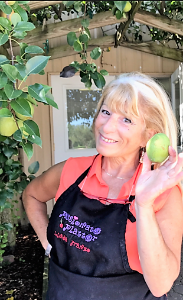 Let's explore the magic of working with children in your home, school, or community gardens. Our mission of an edible children's garden is to re-connect children and their families with real food and to empower and inspire our local communities as well.
Edible growing experience can provide core life skills:
Food education with the students' academics
Children learn by doing
Health and wellness contribute to the success of the whole child
Hands-on garden to table recipes, herb and food pairing, ethnic plants, growing from seeds crafts, and entrepreneurial ideas included
Beautiful fun herb, veggie, & pollinator gardens will stimulate a child's curiosity and desire to learn about their natural world
Gardens small to big, container gardens, microgreens and sprouts, all provide the same benefits
Sign up for this contagious topic, then get a garden growing for some kids!
Linda Franzo owns Passionate Platter, now in its 18th year, with "Garden to Table" style cooking classes for kids and adults. She caters, using edible flowers and herbs, hosts kids cooking, bridal / baby shower parties and provides private home and business team building classes. She speaks around the country passionately on, "Herb Serendipity"~ How to grow, cook, harvest and preserve herbs. Linda is also a tour guide for New Orleans, walking through the French Quarter talking food and history.
Linda was a Speech Communication Specialist for St. Tammany Parish. She pursued her passion by attended cooking classes at the Culinary Institute, St Helena, New England Cooking Institute, Vermont & Cooking School of the Rockies, Colorado, with emphasis on bread and brick oven baking.
Linda has been a member of Herb society of America since the year 2000 and is now currently Unit Chair of the New Orleans Unit.  She is also a Master Gardener & Vegucator for St. Tammany Parish, since 2002. She designed a Sunburst Herb garden for her local library, as a way to educate the public about herb gardens. She has been a mentor for the Bayou Lacombe Middle School Edible garden, growing and cooking herbs & veggies with the school children. She helped design a raised bed Shakespearean Garden with the students. Linda lives in Slidell, Louisiana with her husband Rick of 39 years and has 3 sons and 6 grandchildren.
Linda wants everyone to put Herbal Pizzaz in their food, gardens and lifestyle!
---
Upcoming Webinars
Creating a Personal Herbal Retreat with Beth Schreibman-Gehring
More details coming soon!  Thursday June 21, 2018  2pm EST
---
---
What are HSA Webinars?
Webinars are a dynamic educational opportunity on a variety of herb related topics. Members enjoy the ability to participate in both scheduled webinars as well as view archived presentations. Topics vary widely, from using herbs in cooking, crafting or healing, techniques like distilling essential oils or growing methods, to exploring herbs with modern day and historical significance. A new webinar is scheduled each month!