Trending
---
Make Your Own Herbal Salts! Great for holiday gifts...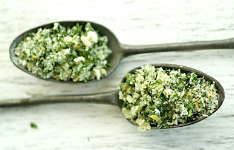 Herb-infused salts are easy to make and great for gifts or party favors. They add great flavor to cooking and a personal touch too! Use herb-infused salts on meat, fish or chicken, roasted vegetables, popcorn, homemade potato chips, soft pretzels, top focaccia or bread loaves, or even desserts for a savory touch!

Ingredients
SP• Coarse Kosher, Sea Salt or other salt
SP• Fresh rosemary (or blend of fresh herbs such as rosemary and sage or rosemary and lemon thyme)
SP• Start with 2 parts salt to 1 part rosemary and if necessary, add additional rosemary to
SPataste. The ratio of salt to herb is personal preference.
SPACE
Our favorite method
SP• Wash herbs in cold water and blot or air dry
SP• Strip leaves from the stems
SP• Measure herbs and salt to desired ratio, keeping in mind that 1 tablespoon fresh herbs = about 1–1.5 teaspoons dried
SP• Alternate layers of salt and  fresh herbs (a single herb or a blend), ending with a layer of salt
SP• Let container sit in a cool dry location away from direct sunlight
SP• After herbs are "corn flake crisp" to the touch, and working in small batches if necessary, pulse herbs and salt in a food
SPAprocessor until the herbs reach the desired size.
SP• Package in airtight small glass jars
SP• For best flavor, use within 6 months to 1 year
---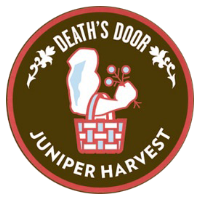 Juniper Helps Save Washington Island
By Paris Wolfe, Blogmaster, The Herb Society of America
  With a challenged economy on Washington Island, Wisconsin, in the early 2000s, business leaders were looking for new revenue streams for their 23-square-mile island. Tourism is a summer business, and the population — thus workforce — drops in the off season. Lake winds freeze this rocky land six miles off the Door County Peninsula in winter.
  What sustainable business would keep the island solvent?
  Their conclusion was that agriculture and wheat farming was a good place to start. Since the demand for baked goods was limited and unlikely to expand, grain farmers needed another outlet for their crops. One with a higher profit margin. And, so a craft beer emerged. Then, the idea expanded — to craft vodka.
  "I went to Michigan State University to take a distilling class," says entrepreneur Brian Ellison who founded Death's Door Spirits. Death's Door refers to the treacherous stretch of water between the island and mainland, the most dangerous passage in the Great Lakes
  "I found a small distillery that let me use their pot still to do some test batches," he says. "People got excited about test batches. So, in addition to my day job, I spent nights and weekends in Iowa distilling spirits."
  As demand for the vodka grew, Death's Door Spirits needed more wheat. But, much of Washington Isand's farmable land was covered with wild, native juniper bushes. These had to go.
  Or not!
  Juniper, HSA's herb of the month for December 2016, is a prime ingredient in gin. Ellison had an "aha moment." And, Death's Door Gin was born.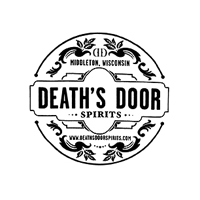 Like every brand of gin, it has a signature formula "We wanted to use only local ingredients, and since we don't grow citrus [a common gin ingredient] in Northern Wisconsin, we chose a simple botanical blend of juniper, coriander and fennel. The whole idea was that the best flavors come from the simplest things."
  "It wasn't like we did massive market research, we did it because that's what we thought was nice," he says. And, consumers agree.
  Made in Middleton, Wisconsin (near Madison), gin production has outgrown the juniper supply on Washington Island and the distillery sources additional herbs from nearby states.
Learn a little more about the story of Death's Door brand.
---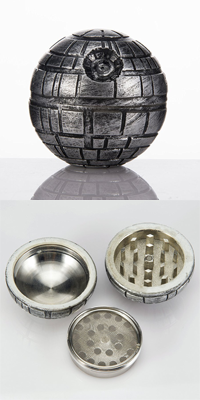 Fun Movie-Themed Herb Grinders
An interesting gift we heard about recently were these herb grinders shaped like the Death Star from Star Wars! If you're looking for a timely little gift for your movie buff inlaws – or want to get your grandkids interested in herbs and cooking – this is certainly worth a look. Ready for action any time you want to 'go rogue' in the kitchen!
Star Wars® Death Star Grinder•••Zinc alloy herb grinder, 3 pc construction, w/pollen catcher
Works with all herbs and spices. You can grind pepper, curry powder, coriander, fennel seed, mustard, saffron, cinnamon and many more. This herb grinder is secured by powerful magnets to prevent any odor or herbs from escaping the device. Take your Herb Grinder with you wherever you go – just 1.9" dia. and weighs only 4 ounces.
SP• A great conversation piece, this hand-crafted Star Wars grinder will give any kitchen pizazz.
SP• Built to last – made from high-quality zinc alloy that will last a lifetime. All parts have been
SPA extensively tested to guarantee a flawless grinding experience for thousands of uses.
You can find these gems at Amazon.com
---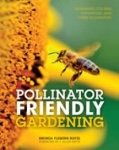 Congratulations to member Rhonda Fleming Hayes on her new book!
Want to do your part in helping your local pollinators flourish? The new book Pollinator Friendly Gardening by Rhonda Fleming Hayes, a member at large in the Central District, makes it easy!
For more information, click on Pollinator Friendly Gardening: Gardening for Bees, Butterflies, and Other Pollinators
---
Announcing a new HSA member discount!
Special $10 one year subscription to each of four Mother Earth publications, including Mother Earth News, Mother Earth Living, Capper's Farm, and Grit.
---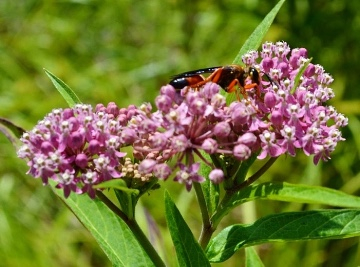 Pycnanthemum, The HSA 2016 Notable Native Herb of the Year
   Mountain mint is the commonly accepted name for roughly 20 species of Pycnanthemum native exclusively to North America. French botanist Andre Michaux called the fragrant plant mountain mint after encountering it while exploring for useful plants in Pennsylvania around 1790. The generic name Pynanthemum is from the Greek pyknos, dense, and anthos, flowers, which refers to the plant's crowded flower heads.
  
   Pycnanthemum is the 2016 Notable Native Herb, selected by members of the Native Herb Conservation Committee (NHCC), and the subject of a short webinar to explore its uses. This the fourth Notable Native Herb has an interesting history and a wide growing range, presenting great opportunities for herb study groups and others interested in learning more about our native herbs.
---