Trending
---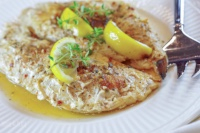 Lemon Herbs In Your Cooking
At the National Herb Garden | September 10, 1:00 – 4:00 pm  
Lemon-scented herbs are among the most popular, useful, and intensely fragrant in the garden. Herb Society members will demonstrate techniques on using these herbs in teas, recipes, arrangements, potpourri, and more. The Under the Arbor series of drop-in demonstrations on herb-related topics is conducted in the National Herb Garden. Presented by Herb Society of America members and Arboretum staff. Admission: Free
---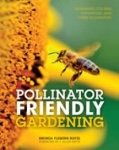 Congratulations to Member Rhonda Fleming Hayes on her new book!
Want to do your part in helping your local pollinators flourish? The new book Pollinator Friendly Gardening by Rhonda Fleming Hayes, a member at large in the Central District, makes it easy!
For more information, click on Pollinator Friendly Gardening: Gardening for Bees, Butterflies, and Other Pollinators
---
Announcing a new HSA member discount!
Special $10 one year subscription to each of four Mother Earth publications, including Mother Earth News, Mother Earth Living, Capper's Farm, and Grit.
---
Pycnanthemum, The HSA 2016 Notable Native Herb of the Year
   Mountain mint is the commonly accepted name for roughly 20 species of Pycnanthemum native exclusively to North America. French botanist Andre Michaux called the fragrant plant mountain mint after encountering it while exploring for useful plants in Pennsylvania around 1790. The generic name Pynanthemum is from the Greek pyknos, dense, and anthos, flowers, which refers to the plant's crowded flower heads.
  
   Pycnanthemum is the 2016 Notable Native Herb, selected by members of the Native Herb Conservation Committee (NHCC), and the subject of a short webinar to explore its uses. This the fourth Notable Native Herb has an interesting history and a wide growing range, presenting great opportunities for herb study groups and others interested in learning more about our native herbs.
---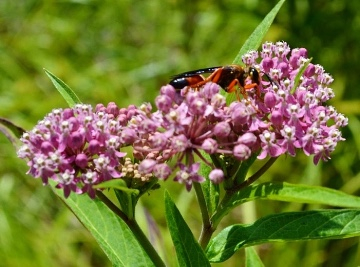 Cleveland Metroparks uses social media to engage audience
CLEVELAND, OH  This image was posted on the Cleveland Metroparks Facebook page with a request for viewers to upload their own images. Their post read:
"This striking Great Golden Digger Wasp was seen peacefully feeding on the nectar of swamp milkweed outside of the Watershed Stewardship Center recently. These colorful insects are some of the most docile members of the wasp family (Vespidae) and are commonly seen feeding in native wildflower gardens throughout the summer.
Although they pose little threat to people, great golden digger wasps are menacing parasites to grasshoppers, crickets and katydids. After carefully digging out nesting tunnels in the spring, females search for insects to serve as larval hosts for their young. After a single sting paralyzes their target, they are carried back to the nest and placed in individual cells to await their fate as a host to the parasitic wasp's eggs. Scientists are particularly interested in the behavior of the wasps as they place their prey in the nest, as they seem to follow the same routine each time.                                              — JH, Naturalist"