News
---
TABLE OF CONTENTS – CLICK ON A TITLE TO LEARN MORE
• Zika Spraying Kills Millions of Honey Bees
• P. Allen Smith announced as HSA's 2016-18 Honorary President
• The Pawpaw – A True American Fruit Tree
• Discovery of 3 New Penicillin Compounds
---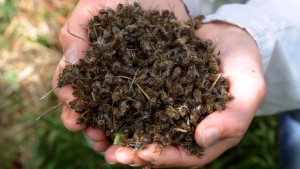 Zika Spraying Kills Millions of Honeybees
By Sandee LaMotte, CNN    Updated 7:22 PM ET, Thu September 1, 2016
(CNN)  The pictures are heartbreaking: Millions of honeybees lie dead after being sprayed with an insecticide targeting Zika-carrying mosquitoes. 
"On Saturday, it was total energy, millions of bees foraging, pollinating, making honey for winter," beekeeper Juanita Stanley said. "Today, it stinks of death. Maggots and other insects are feeding on the honey and the baby bees who are still in the hives. It's heartbreaking."
Stanley, co-owner of Flowertown Bee Farm and Supply in Summerville, South Carolina, said she lost 46 beehives – more than 3 million bees – in mere minutes after the spraying began Sunday morning.
Juanita Stanley says she lost more than 3 million bees.
"Those that didn't die immediately were poisoned trying to drag out the dead," Stanley said. "Now, I'm going to have to destroy my hives, the honey, all my equipment. It's all contaminated."
Stanley said Summerville Fire Capt. Andrew Macke, who keeps bees as a hobby, also lost thousands of bees. She said neither of them had protected their hives because they didn't know about the aerial spraying. 
"Andrew has two hives," Stanley said. "He didn't know they were going to spray. His wife called him. His bees are at their porch right by their home, and she saw dead bees everywhere."
It's a tragedy that could be repeated across the country as cases of Zika continue to rise and local mosquito control districts struggle to protect their residents and ease local fears.
The spray fell from the skies between 6:30 and 8:30 a.m. Sunday. It was the first aerial spraying in 14 years, according to Dorchester County Administrator Jason Ward, part of the county's efforts to combat Zika after four local residents were diagnosed with the virus. 
"We chose Sunday morning because few people would be out and about that early on a weekend," Ward said. "To protect the bees, you don't want to spray after the sun has been up more two hours, so we scheduled it early."
The county used a product called Trumpet, which contains the pesticide naled, recommended by the Environmental Protection Agency and the Centers for Disease Control and Prevention for control of adult Aedes aegypti, the mosquito that transmits Zika. 
According to the manufacturer's label, Trumpet is "highly toxic to bees exposed to direct treatment on blooming crops or weeds. To minimize hazard to bees, it is recommended that the product is not applied more than two hours after sunrise or two hours before sunset, limiting application to times when bees are least active."
"We followed that recommendation," said Ward, "which is also the policy laid out by the state, using a pesticide the state has approved for use."
Ward says the county also notified residents of the spraying by posting a notice on its website at 9 a.m. Friday, two days before the spraying. He added that it alerted beekeepers who were on the local mosquito control registry by phone or email, a common practice before truck spraying.
Neither Stanley or Macke were informed, Ward said, because they, like many hobby beekeepers, are not on the local mosquito control registry. 
"We are obviously saddened by the fact people have lost their hives, and we have gone back and looked at our procedures," Ward said. "We will now give up to five days of advance notice, and we have expanded our list to include more local beekeepers."
Stanley says she doesn't think there was malice involved, but that doesn't make the loss of her "honey girls" any less painful.
"This wasn't about the honey," she said. "It was about raising bees and selling them to other people, and spreading the honey girls out there into the world. Now, I can't help anyone anymore, because all of them are dead."
SEE ORIGINAL POST: http://www.cnn.com/2016/09/01/health/zika-spraying-honeybees/index.html
---
P. Allen Smith
The Herb Society of America (HSA) is pleased to announce P. Allen Smith, an award-winning designer, gardening and lifestyle expert, an author, television host, entrepreneur and conservationist, has been selected to be the HSA Honorary President effective July 1, 2016 through June 30, 2018. Allen lives in Little Rock, Arkansas and has a passion for American style. 
P. Allen Smith shares, "As many of you know, I have loved and grown herbs my entire life. So when I heard that I was selected to be the Honorary President of The Herb Society of America, well I was absolutely thrilled. And I want to thank you very much.
Our missions are very similar in that we see the importance of raising the awareness of the natural health benefits of herbs through fostering the preservation, cultivation, use and delight of these beautiful plants.
I certainly hope to see all of you in Little Rock and here at Moss Mountain Farm in 2017.  Until then, I hope your herbs grow strong and bountiful."
Allen uses his Arkansas home, Moss Mountain Farm, which The New York Times hails as a "stunning estate," as an epicenter for promoting the local food movement, organic gardening and the preservation of heritage poultry breeds. He created his farm to serve as a place of inspiration, education, and conservation and provides visitors from around the country locally sourced meals to introduce them to an expression of the regional cuisine.
---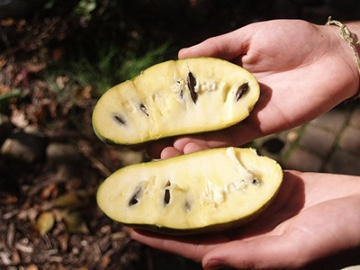 The Pawpaw – A True American Fruit Tree
By Coleman Alderson
Well, we 'paid a visit to the pawpaw patch'. We met a lot of nice folks, talked to some pawpaw growers, and tasted a little sampling of pawpaw recipes at the annual North Carolina Pawpaw Festival in Winston-Salem. The event is sponsored and hosted by the NC Cooperative Extension Agency. There are lectures, displays, cooking demonstrations, plant sales, books, a long table of sample tasties all made from pawpaws, and fruit for sale.
The creamy sweet fruit has a taste reminiscent of a cross between a mango and a banana.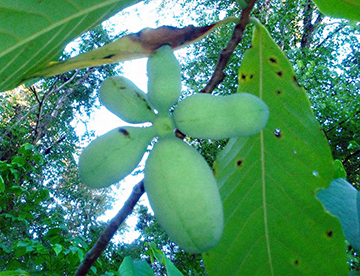 A collage of pawpaw aficionados converged to admire, celebrate, and learn about this smallish American fruit tree (Asiminia triloba), a staple food source dating back to the earliest inhabitants. The unique flavor of the ripe vaguely mango shaped fruit has been described as a cross between banana, mango, and a tang of citrus. Chances are you'll never find pawpaws at your supermarket and rarely does it make appearances at the local veggie stands. It neither stores nor ships well, so you either grow your own, connect with someone who grows it, attend festivals like this one (though they sold out of fruit the first 1/2 hour), or buy the value-added products like purees, jams, chutneys and, yes, of course, beer! Pawpaw fruit does freeze well, so peel it, slice it, bag it and freeze it.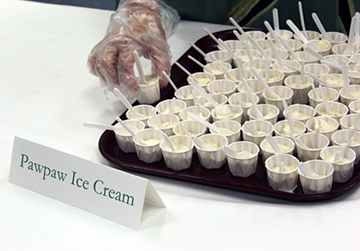 One of the best ways to get familiar with pawpaws, is by attending a festival dedicated to the cultivation and use of this remarkable fruit tree. We've scouted a few to check out either this year or next. And of course, the very best way is to enjoy America's largest native fruit down yonder, in the pawpaw patch (if you're lucky enough to find one).
See original post: http://www.gardensall.com/pawpaw-true-american-fruit-tree/
---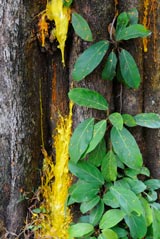 Garcinia nobilis has 3 Penicillin Compounds
Discovery of 3 New Penicillin Compounds with Clinically Relevant Antibacterial Activity
According to a recent study from Germany, researchers have isolated three new penicillin-like compounds with clinically relevant antibacterial activity – known as penialidins 1-3 – from the fungus Penicillium growing within the leaves of a medicinal plant from Cameroon. The plant, Garcinia nobilis (syn. Garcinia lucida) is related to the well known garcinias in commerce, mangosteen and Garcinia cambogia, common in weight loss products. G. lucidum bark is used in Camaroonian food and medicine.
The bark is used as an additive to palm wine production and in distilling fermented palm wine to produce liquor. The bark and the seeds, dried or fresh, are widely used for medicinal purposes to prevent food poisoning and to cure stomach and gynaecological pains, as well as to cure snake bites. (FAO)
While many plants have antimicrobial properties, the effectiveness of G. nobilis appears to be due to naturally-present penicillin. Penicillium is the name for a family of fungi found everywhere in our surroundings. The Penicillium described in this study is an endophyte, which is typically a bacterium or fungus that lives inside a plant without causing apparent disease. In fact, many commercially important plants carry fungal endophytes which enhance their growth, improve their ability to tolerate drought and even boost their resistance to insects and mammals that eat them. Penicillin antibiotics were among the first drugs shown to be tremendously effective against many previously serious conditions, such as bacterial infections caused by staphylococcus and streptococcus. Many types of commercially available penicillins are still widely used today, although their overuse has made many species of bacteria resistant to them. In the present study, the structures of the three newly discovered penialidins were first determined using sophisticated analytical methods such as nuclear magnetic resonance spectroscopy (NMR) and high-resolution mass spectrometry (HRMS). Next, the antibacterial activities of these new compounds were tested on the clinically relevant species Staphylococcus aureus, Escherichia coli, Bacillus subtilis and others. Penialidin 3 was seen to be as effective against S. aureus and B. subtilis as the standard antibiotic streptomycin. Penialidin 2 was also very active against S. aureus. By comparing the structures of the three new penialidins, the study researchers were able to deduce structural changes that would significantly increase the antibacterial activity of penialidin 1. In conclusion, three new penicillin-like compounds isolated from the fungus Penicillium growing within the leaves of a medicinal plant from Cameroon show clinically relevant antibacterial potential.   Technical Summary Three new polyketides named penialidins 1-3 were isolated from Penicillium harbored in the leaves of the Cameroonian medicinal plant Garcinia nobilis. Their antibacterial efficacies were tested against S. aureus and E. coli. Penialidin 3 exhibited pronounced activity against S. aureus as well as against B. subtilis similar to that of the standard antibiotic streptomycin. Penialidin 2 was also highly active against S. aureus. Comparison of the structures of the three compounds revealed that altering the substitutions at C-10 and C-2 can significantly increase the antibacterial activity of Penialidin 1. See the full article [LINK] for all the details.  
The authors note: 'Compound 3 exhibited pronounced activity against the clinically-relevant S. aureus as well as against B. subtilis comparable to that of the reference standard (streptomycin). Compound 2 was also highly-active against S. aureus. By comparing the structures of the three new compounds (1-3), it was revealed that altering the substitutions at C-10 and C-2 can significantly increase the antibacterial activity of 1.'
---