Katrinka Morgan, Executive Director
Katrinka Morgan joined The Herb Society of America as Executive Director in 2007. She brought more than 20 years of non-profit experience to the role. 
As Executive Director, Katrinka makes certain the organization operates efficiently to fulfill its mission of spreading herb education. Her goals include empowering the staff to support and assist members, by providing programs and services. 
Under her leadership the Society has moved into the 21st century with improvements to the physical structure of the headquarters building during the 2009-10 remodel, a transition to increased digital communications with electronic newsletters and a reduction in the operating budget.
"Working with The Herb Society brings something new to each day," says Katrinka. "We never know who might call or come to visit. Most visitors have driven by the headquarters office and finally decided to stop and see what we are all about."
Katrinka is always looking for new initiatives to better serve members. "Currently we're working on updating the brand and enhancing our social media presence including the HSA website, Facebook, Pinterest and even Twitter," she says.
Katrinka's interest in herbs started with healthy cooking. At home she grows a number of herbs. She organizes her culinary cultivars in a wine barrel to ease their cultivation and beautify her front yard. Scattered throughout the garden beds are elderberry, calendula, blueberry lily, lavenders, several varieties of Echinacea, salvias, and St. John's wort for color, flowers, bees, and butterflies.
Her favorite herb to grow and use is basil for pesto and use on fresh tomatoes. She's learning to grow and use lesser recognized herbs such as lovage, savory, salad burnet, and chervil.
Katrinka, her husband Jim and dog Henry live on two acres in Willoughby Hills, Ohio. Away from work she likes to quilt for friends and family, and is always ready for an adventure.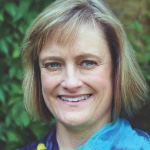 Karen Kennedy, Education Coordinator
Karen Kennedy has interesting, and enviable, college degrees. She studied Agriculture at Kansas State University, with a major in Horticultural Therapy. For the past 30 years she has been a registered Horticultural Therapist. 
The Herb Society of America tapped her talents as Education Coordinator just three years ago. In that role she puts together educational webinars, gives presentations on herb topics and produces informational materials. 
"My goals are to use educational materials and programs to increase awareness of The Herb Society of America and learning opportunities for our members and the public," says Karen. For example, she contributes to The Herbarist magazine and develops factsheets about various herbs.
Before joining HSA, Karen shared her talents, for many years, with the neighboring Holden Arboretum. She continues to be active in professional organizations including the HT and Cancer Network Group, and the National Wellness Initiative.
Karen grows herbs in raised beds and containers at her home. Her favorites tend to be seasonal, with basil topping the list. "I love the versatility and flavor of this herb," she says. "It pairs well with savory dishes, desserts and beverages."
"Lemon verbena is a close second since it holds its fragrance and flavor with drying and is lovely in a cup of tea," she continues. "And, I can't get through the holidays or grilling season without rosemary."
Karen lives in Concord, Ohio, with her husband, daughter and a schnoodle. In her free time she gardens and knits.
Amy Rogers, Administrative Assistant Extraordinaré
Amy Rogers calls herself an administrative assistant, but her responsibilities reach much further. Certainly, she's the initial point of contact for members and public when calling or stopping by The Herb Society of America headquarters. She handles reservations for the  Annual Meeting of Members, solicits and processes advertisements for The Herbarist magazine, works on the annual appeal and so much more.
With a Bachelor of Science degree from Miami University in Oxford, Ohio, and an MBA from Cleveland State University, Amy brings a rich business history to The Herb Society. After years working for various organizations she took time off to raise her daughter through middle school. This job  marks her return to an office, one so close to home that she's ridden her bike to work. 
Most of Amy's herbs are grown in pots to save them from the deer around her Kirtland home. 
"My favorite herbs are lemon verbena and pineapple sage. I love the fragrance and their look when paired in pots with other herbs and flowers," she says. "I always have basil, thyme, parsley, dill, sage and chives on hand for cooking."
When she's not gardening, Amy loves to bike and read. She lives with her husband, Alan, daughter, Lily, calico cats, and a horse, Sophie, that lives at a barn 5 miles away.
Chris Wilkinson, Librarian
When people walk into historic stone headquarters of The Herb Society of America, Chris Wilkinson is often their first contact. Librarian since 2015, Chris finds that many want to know how to start an herb garden or how to use herbs in cooking.
Chris answers questions and gives guests a tour of the 3,100-volume library. The room is a gardening bibliophile's dream. And, she hopes its availability will draw in more members. 
"I want to grow the membership through the library," she says. "I'm also trying to focus on children's books. It's such a healthy pastime for a child to put down their computer, dig into the warm earth, plant a seed, watch it grow, harvest and eat the result." And, thinking ahead, she notes that kids are the future of the organization. 
The library is already a significant asset to HSA's members. They can borrow books via email or phone call. These are mailed out and must be returned after 30 days. A list of books is available on the Herb Society's website. There, members can peruse a list of herbal fiction.
Chris developed her love of gardening a short time after her father passed away in the 1990s. "I dug up my dad's rose bushes and planted them in sunny spots in my yard," she says. "I have old ramblers and hybrid tea roses."
When she's not working or dreaming about a move to England, Chris likes to write, garden and work on her old house. She recently had her first short story, The Decoy, printed in an anthology called History and Mystery, Oh My! available at Amazon.com
Paula Byrne, Bookkeeper
Her job includes accounts payable, payroll and payroll tax reporting; recording deposits; reconciling cash and investments, preparing quarterly and annual financial reports; and handling the annual tax return.
In that role she strives to provide relevant, accurate financial information to the board and members.
Paris Wolfe, MA  Blogmaster
Paris Wolfe has been a journalist since the mid-1980s and an herb gardener since 1990. Writing about food, and herbs has been a passion throughout her career. She's written for The (Lake County, Ohio) News-Herald, The (Cleveland) Plain Dealer, Cleveland Magazine, The WineBuzz and so many more publications. Her credentials include a Master of Arts degree in public relations. Working on a blog with The Herb Society of America is a natural progression of her writing talents.
"I'm excited to be working with The Society. There is so much potential to extend its reach into untapped communities," she says. "Gardening is on the upswing with more than 14 million households engaging in herb gardening."
Paris believes in research-based communication and that includes talking to experts about their experiences and knowledge. She hopes to incorporate those talents in the blog and other activities of the Society.
Her favorite herbs are cilantro and lavender. She can't grow catnip because it attracts strays.
Paris lives in Concord Township, Ohio, where she is the neighborhood cat lady. She lives with her two sons Dante and Dominick and four cats. In her spare time she's busy gardening, cooking, crocheting, motorcycling and skiing.